Richard and Carmelita Dover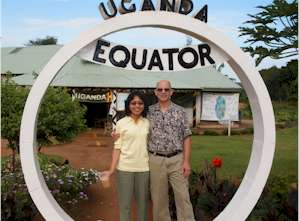 We finished our short term missions trip in Uganda. We preached and taught in the Uganda prisons, a Bible College, a church, and in a village. We were amazed at the receptivity to the Gospel, and all the smiles of the people even though they live in poverty. Just a bar of soap and a piece of bread brought joy to the inmates (many that are in the prison have committed very minor offenses, or may not even be guilty).
Click Here to see our wedding pictures and read how Carmi and Rich met.
Here are links to personal web sites of Rich & Carmi
Victory Life Center-Our church in Kent, Washington
Victory Today Radio-Radio ministry of our church
In His Steps Ministries-A web site for Christians and Spiritual Seekers
Church Blog

ChristianBlogSites.com-Are you interested in having your own blog site? We offer free blog sites.